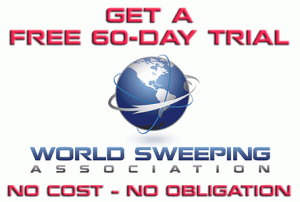 Dear Sweeping Industry Professional –

In today's world, the barrage of information is overwhelming. In many ways, that makes it even harder to pinpoint the info you need to run your sweeping business successfully. That's just one of the many advantages you will find to being a Member of the World Sweeping Association!
As an incentive for you to see what the World Sweeping Association is all about, we're offering a FREE 60-day trial membership to any sweeping company that participates in an insurance review with one of our qualified insurance experts.
Just fill out the form at the bottom of this page to receive a professional consultation with one of our endorsed insurance program professionals. There's no obligation to buy a thing! The worst that can happen is that you get a comparative insurance quote and enjoy a wide variety of sweeping industry discounts and other benefits for the next two months.
You have everything to gain and nothing to lose.
Here's what you will receive with your FREE WSA 60-Day Trial Membership:
A FREE Insurance Review and Quote, Including –
Full analysis of your current insurance policy to verify you're covered properly
Full analysis of your current costs
Plus, you will receive a no obligation, competitive quote on your commercial auto, general liability and/or workers compensation insurance
Industry Discounts You Can Actually Use
20% discount on parts purchased from Elgin Sweeper
15% discount on Supervac (S-series) parts from Schwarze Industries, Inc.
20% discount on parts, as well as a discount on new and used sweepers from Victory Sweepers, Inc.
40% discount on Isuzu/GM, Ford, Nissan, Mitsubishi, Kia, Suzuki and Saab parts from Tom's Truck Center
Fleet discount on purchases from O'Reilly Auto Parts
50+% discount on Baldwin Filters
15% discount on Mystic Washer flat surface pressure washers
Discount on trash can liners from Trash Can Liners Direct
20% off on hydraulic equipment purchase/rebuild/repair through Marathon Hydraulic Motors
Bi-Monthly WSA Member Updates
As a WSA Member, you'll be among the first to learn a wide variety of information you can actually use in your business. Every two weeks WSA Members are updated on the latest sweeping-related news and information, from equipment updates to the latest OSHA regs, HR posting requirements and the scoop on what national service providers (aka third party vendors) are up to.
Our WSA Member Updates also contain other WSA Member-only articles, webinars, links to emerging legislation and other info we think you'd want to know. Plus, all this information is archived in my Director's Blog section for easy look-back reference. Here's what Jay Presutti, president of East Coast Industrial Services, has to say about the WSA Member Updates he receives: "I get more information from one of the World Sweeping Association's bi-monthly news updates than I've ever gotten total from any other industry association I've belonged to." Jay's sentiments have also been echoed by a number of other sweeping contractors who are current WSA Members.
Access to a Complete List of Third Party Vendors
Use of third party vendors (aka national service providers) has become the norm for many large retail chains. Not only does WSA provide its Members with the contact information for each; with a few mouse clicks, Members can see and benefit from the comments of other sweeping contractors who have used the companies. WSA also provides a number of articles designed to assist you in navigating the many pitfalls that can occur when working with these organizations.
• Gold-level Listing in WorldSweeper.com's Industry-Leading Online Contractor Locator
Our WSA affiliate, WorldSweeper.com, is the leading information resource for power sweeping on the internet. The first US Sweeping Contractor Locator debuted on the site in 2005. Today, only WSA Members have listings in this highly-used property manager resource.
Access to the World's Largest Collection of Sweeping Contractor Articles
World Sweeping Association Members have access to the world's single largest collection of articles written for sweeping contractors. We currently offer Members-only access to over 250 articles on topics like Safety, Selling Your Services, Forms, Best Practices, Legal Issues and many more. Just take a look at the category list in the right column of the page you are now viewing for a complete rundown of topic areas.
Plus, we offer Members-only access to over 70 hours worth of audio podcasts held with successful contractors, as well as other informative podcasts on a variety of different topics.
What Trial Members
Don't

Receive...

At any time you can ask to transition your WSA Membership from Trial Member to General Member. We'll then invoice you for $325 for your entire 14-month membership. Or, if you prefer, payment may be paid in quarterly ($82) or monthly ($27) installments. With your paid membership, you will receive these additional benefits:
Use of WSA's Member and Ethics logos on your website, brochures and handouts
Right to use WSA-provided business forms
As needed telephone consultation with an independent sweeper insurance adjuster
Free review of your brochure and other handouts (up to 3 per company) through American Proofreading Co.
Ability to purchase the award-winning Fundamentals of the Power Sweeping Business (normally $99.95) for just $25 plus shipping
Membership packet including a professional notebook, framed Membership Certificate and more
To try WSA Membership for a full 60 days, fill out the application at the bottom of this page. We won't take your credit card information and there are no strings attached. If you're still not convinced, try this link that tells you more about the roots of the organization as well as my own 25+ years of experience in the power sweeping industry.
In my many years of involvement with power sweeping contractors, I've seen a number of instances where a contractor's business was compromised – or put out of business entirely – because they did not have the right insurance coverage. We believe this is such an important issue that we're willing to provide a 60-day FREE WSA Membership to any sweeping contractor that has a consultation with our qualified insurance professionals who understand the needs of sweeping and pavement maintenance contractors.
If you have any questions, feel free to contact me personally via email to director@worldsweepingpros.org or by calling 360.724.7355 after 9am, Pacific.
Good Sweeping,



Ranger Kidwell-Ross, M.A.
Executive Director, World Sweeping Association
Editor, WorldSweeper.com


Trial Membership Application Information