The 2013 WSA Scholarship Program winners are shown below. Check below the winners'  from this year for deadline and other information about our 2014-2015 academic year WSA Scholarship Program.
Seth Rhoden was Winner of the 2013 Dale McCaskill, Sr. Scholarship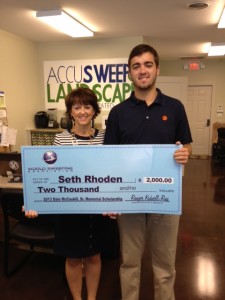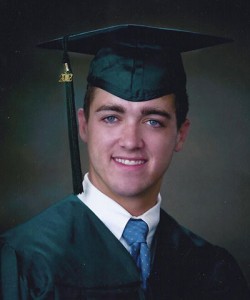 In 2013, Seth Rhoden, of South Carolina was the winner of the Dale McCaskill, Sr. Scholarship. Seth's mother, Mary, is the Office Manager for WSA Member company, AccuSweep. As a result, Rhoden was awarded a $2,000 WSA scholarship instead of the $1,000 that it would have been if AccuSweep was not a WSA Member.
Seth will be attending Clemson in the 2013/2014 collegiate year. In high school, Seth was involved with student government as both a class representative and as Student Body President. He was a team captain in both football and basketball and attended Student Leadership University from 2009 through 2012. He was also an intern at First Baptist Church, Columbia, SC.
Austin Moore was Winner of the 2013 Carl J. Austin Memorial Scholarship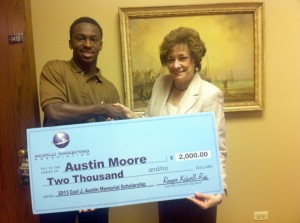 In 2013, Austin Moore, of Michigan was the winner of the Carl J. Austin Memorial Scholarship. Austin's father, Rod, i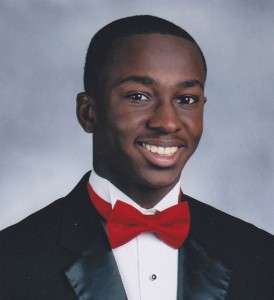 s the General Manager for WSA Member company, C & J Parking Lot Sweeping. As a result, Austin was awarded a $2,000 WSA scholarship instead of the $1,000 that it would have been if C & J Parking Lot Sweeping was not a WSA Member. In the photo above, Austin is shown receiving his 'award check' from Marilyn E. Reineck, Ph.D., Sr. Vice President for Academics, Concordia University Chicago.
Austin was a three-sport athlete in high school; football, baseball and basketball. He also participated in Key Club, Kids Against Bad Decisions, Student Council and Journalism. Austin will be attending Concordia University, Chicago.
Overview of the WSA Scholarship Program
The World Sweeping Association offered two scholarships in 2013 and will do so again in 2014. To be eligible, a student must be enrolled or enrolling in an accredited university or technical school and be the son or daughter of an employee of a power sweeping company. Complete details are included in the application and instruction documents linked below.
All applications for the 2014-2015 academic year, as well as supporting information, must be postmarked by, or received by, the WSA office no later than July 1, 2013. The decision on the scholarship awards will be made by the WSA Scholarship Advisory Board, and the winning students contacted, no later than August 1, 2014. Scholarship monies will be sent directly to the school or university being attended by the recipient, unless other arrangements are required.
WSA will be providing one scholarship in the name of the late Dale McCaskill, Sr., a long-time power sweeping contractor who was killed in a car accident in 2011. The other is in the name of the late Carl J. Austin, who was sweeping contractor before becoming a manager with well-known sweeper manufacturer, Schwarze Industries, Inc., for many years. If the sweeping company the winning applicant(s) works for IS a member of the World Sweeping Association, the amount awarded will be $2,000.  Otherwise, the scholarship will be in the amount of $1,000.
As the World Sweeping Association Scholarship Program enters its second year we welcome any ideas on how it might be modified and/or expanded. If you have questions or comments, please let us know. For complete information about eligibility, as well as the information needed to apply, use the links shown below.
Note to sweeping company managers: Choose the top link for a one-page flyer you can post onto your Bulletin Board. It is in PDF format. All of the other forms are Word documents that may be accessed by applicant as electronic files that may be printed or read online. If you have any trouble downloading, please call us at 866.635.2205 and tell us where to email the forms to you!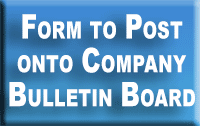 Here's what WSA did to get things started.
To 'get the ball rolling,' $25 was donated to the scholarship fund for each new member who enrolled with WSA for the yearly membership rate of $325 between December 2012 and February 2013. Also, all of those who signed up by the end of February were additionally designated as 'Founding Members' of World Sweeping Association. The total Founding Members who joined during this membership drive numbered 32, which led to an $800 contribution directly from WSA.
Others in the industry also matched some or all of WSA's $25/member contribution.
The following leading industry suppliers and contractors also contributed:

David McCaskill, President of AccuSweep Services, Inc. contributed $800
Karl Stauty, President of Commercial Power Sweeping & Services contributed $800
Eric and Derek Grieco and the Team at  Immaculate Power Sweeping, LLC contributed $800
David Ross, President of Millennium Maintenance and Power Sweeping contributed $800
Keystone Plastics contributed $700
Schwarze Industries, Inc. contributed $600
Gale Holsman, President of American Sweeping, Inc. contributed $500
Tom Kuhns, President of Capitol Sweeping, Inc. contributed $500
Gerald Gann, former Schwarze Industries parts pro, contributed $200
This provided WSA with a starting amount of $5,700 to get the program rolling. In addition, Mark Schwarze, President of Victory Sweepers, Inc., donated one of his company's T600 sweepers. This sweeper was then auctioned off for $7,000, with the proceeds going to the Scholarship Fund. During this time, in light of the recent passing of long-time industry leader, Carl Austin, an additional scholarship was started in his name, as well.
If you would like to donate to the Scholarship Fund, or to get any questions answered, give us a call at 866) 635-2205 or use the contact form below and we'll get back with you promptly. Thanks for considering donating to or, alternatively, facilitating your employees to apply for a scholarship from, the WSA Scholarship Fund!
– Ranger Kidwell-Ross, Executive Director