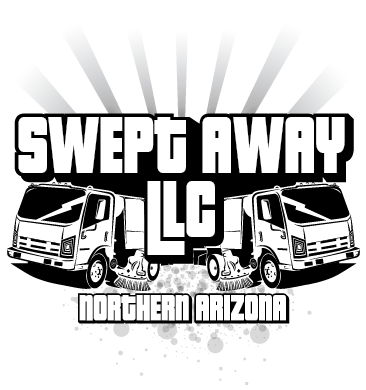 In June of 2014, Swept Away LLC's co-owner, Justin Paluszcyk, applied for membership in the World Sweeping Association. When he did so, Justin took advantage of the 'questions or comments' area at the bottom of the application to write the following:
"Integrity is a dying practice these days. I think a lot of contractors are struggling because they don't posses integrity. Integrity is a conscience act of doing what's right even when no one is watching, it's what makes us "whole" as a person. The word integrity was derived from the word "integer" which, as all of us mathematicians know, is a "whole number."
"When all we see on TV are our politicians lying and cheating it's hard to stand against that in business. I truly believe that your customer is buying YOU, not your product. If they don't like you they won't hire you. It may take time, but a cheater will always be exposed. I chose to build my company on the highest level of honesty, ethics and morals possible, and we're blessed because of our uncompromising integrity."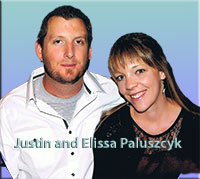 Now thirty-one years old, Justin actually has been involved in the sweeping industry for half of his life, since he started driving a sweeper for his dad's company when he first got his license at age 16. After working for his father for several years, Justin and his wife, Elissa, branched off in 2007 by starting their own company in the nearby Prescott, Arizona, area.
The pair started with one account and a somewhat beat-up 1995 TYMCO 210 sweeper. They first turned their energies to canvassing their market to convince prospective customers that they could offer a level of service unavailable elsewhere. The couple's success has been significant: In the ensuing 7+ years, Swept Away LLC has become the largest sweeping and pressure washing company in the Northern Arizona region.
"It's not by accident that we employ 16 people and are nearly debt-free," said Justin, "it's because of INTEGRITY! I love that word and the meaning is even greater! We are very proud of our reputation, which is unsurpassed by any other industry company in the region that we service. However, the sweeping industry is getting difficult to make a living at anymore. I've been in sweeping industry for about 15 years now and it seems that every year we get pushed around more and more.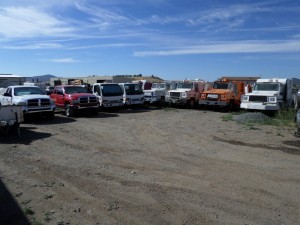 "We are virtually debt free even though we now own 15 sweepers, four commercial pressure washing rigs, nine pickups and nine snow plows. Out of all that, we have a loan on only two pieces of equipment. Even with little debt it's hard to keep your margins profitable. Repair costs, fuel, payroll, taxes and supplies continue to rise and yet our prices continue to fall yearly. I'm not complaining, just trying to give you some insight into what's happening in our region of the US."
When asked how they have managed to grow so quickly without the debt usually associated with doing that, Justin responds that their approach was to be slow and steady. "At first we expanded close to our home base and insisted on a profit margin that would allow us to do so without getting ourselves into debt. The two of us initially serviced all of our properties seven nights a week, doing all the work ourselves as we continued to grow. It was about nine months into the business when we hired our first employee.
"That was an enormous challenge for me because I was a 23-year-old kid who hadn't gone to college and I didn't have a good understanding of all that was involved: payroll taxes, unemployment comp. insurance and all the rest. Everything I've learned we've learned on the go and what we picked up from our parents. We were very careful and were not willing to make bad decisions that would compromise our business. We also kept from spending money on a personal basis, as we got more successful and had cash flow. We didn't go buy a boat or any of the other toys where we might have sacrificed cash flow to indulge in. We truly tried to put the company's welfare ahead of our own."
The proof of the couple's formula is in the results. Justin confided that they've only lost one sweeping customer in the course of over seven years in business. And, nine months later, that client called and gave all their work back to Swept Away. It was the typical situation where the customer went with a low bid from another contractor, who was then not able to perform up to the standards bar set by Swept Away when they had the contract. This is cited as another example of where Justin feels they were rewarded for their honesty and integrity, since they felt there was no way to do a good job at the lesser amount. Over time, the customer was able to see the truth to that, as well.
Although Swept Away has grown to a total of 16 employees, Justin confirmed that, although they have "an incredible crew right now," employee hiring and management has been perhaps the most challenging aspect of growing the business to date.  One tack they have taken is to make sure they are paying fair wages, in fact above market value. Although convinced that you can't buy employee loyalty, what paying a bit more has done is to increase employee morale and attitude across the board.
"How can a business operate effectively if they employees are working hard and are still not able to pay their bills?" said Justin. "How can that not affect their attitude? We've learned a lot over these years. An employee's negative attitude will start affecting everyone, from customers to the rest of the employee team. When that happens you have to recognize the symptoms and make the tough decision to remove the cancer so that it doesn't spread further. I try to take everything to heart and distinguish between a friendship and a business relationship with my employees, as well.
"I don't need to come to work yelling and screaming as a result of any personal problems I may have, or even when an employee gets into an accident with a piece of equipment. I think we need to realize that, as business owners, that's part of what happens once in awhile and you have to make the needed corrections in a calm manner and move on. [Creating a scene] is not conducive to increasing productivity and keeping your employee team on an even keel. I do my best to create a positive work environment and to not take any personal problems to work and vice versa. I just want to treat everyone the way I'd want to be treated."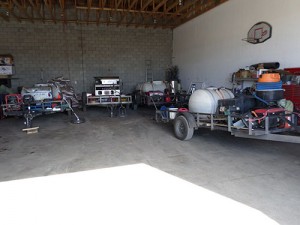 One of the reasons cited for Swept Away's success to date is the company's diversification. Besides sweeping, the company offers pressure washing, snow removal and porter services.  The Paluszcyks have learned that customers have more initial interest and ongoing loyalty when they are able to offer to solve a variety of business problems, not just parking lot sweeping. Plus, Justin says they constantly inspect all of their client properties via a supervisory team.
"We do daily or every other day route inspections. Plus, since we're often the first ones on the property in the mornings and/or the last ones on it at night, we've really worked hard at developing with our employees an ownership mentality for the properties we service. Many of our property managers are absentee managers, with locations that are remote from here. They truly appreciate that we're looking out for their interests in a meaningful way.
"I keep in touch with most of our managers on a weekly or monthly basis just via informing them of items of interest we've discovered on their properties. They know we'll keep them 'in the loop' with anything of interest, even if these are items that we can't fix at Swept Away. This creates a level of loyalty that we wouldn't have otherwise."
Another secret to Swept Away's success, according to Justin, is that they have a 2,500 sq. foot shop staffed with two mechanics. This allows them to do almost all maintenance in-house. Plus, the service technicians area also cross-0trained as sweeper operators, and so have a better understanding of how sweepers operate from an operator's standpoint.
"Any mechanical issues we have, from replacing a motor or transmission to routine maintenance, we do in-house," said Justin. "And we also do quite a bit of other cross-training. The pressure washing and porter services comprise one division of the company, and many of those employees cross-train among those services. Then, our sweeper operators are cross-trained to run either parking area sweepers or street sweepers, as well as for snow plow operation and snow abatement techniques. Because they they have been on the properties as sweeper operators, they know where all the grates and drains and so forth are located when they're out there running a snow plow."
Swept Away has no temporary or part-time employees. In summer they have a number of employees who get 60 to 70 hours of work per week. In winter months the same employees are utilized part of the time to keep all of the equipment in good repair and in getting ready to hit the ground running when spring arrives.
Although PM-10 issues and construction track-out abatement are big enforcement issues as near as the Phoenix metro area, Justin said there is little-to-no enforcement of these types of issues in Northern Arizona. In fact, he's convinced it would be better for the industry if that were not the case, a position that's easy to agree with. Water recovery during pressure washing is becoming more mandated and regulated, though.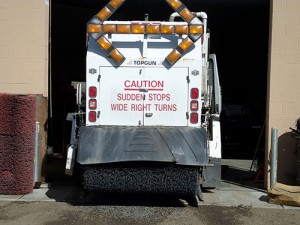 To emphasize safety with employees, management trains basic safety techniques and practices on a routine basis. Plus, they now have bright orange safety t-shirts that are being given to employees to wear for safety. We have multiple beacons on all of our trucks. We believe it is important to know how every vehicles operates; never putting any body part under a vehicle that has been raised without safety stops in place; we insist that no action be taken that might compromise their safety or well-being.
When asked if he has any ideas about how to change the downward spiral the parking lot sweeping industry appears to be in, Justin responded "I'm sorry to say that I don't. Unfortunately we can only control our own actions and intentions. We're forced to dance with the devil and avoid being burned. I believe that desperation has also created this problem. Our industry, as you know, took such a huge hit with the economy and hasn't recovered well. A lot of people panicked and were willing to lower their standards to keep their doors open. Now we've lost our ability to negotiate with large corporations and 3rd party providers because they know there's someone else out there willing to cave in."
To finish the interview the way it started, Justin related a story of getting a check for almost $10,000 from a customer who was actually paying Swept Away by mistake. Because of the circumstances, chances are the customer would never have realized their mistake. Despite this, Justin's response was to immediately contact the customer to inform them of their mistake, along with a promise to return the check to them uncashed.
"It's not an option to take money you haven't earned or, for that matter, do anything else that you know isn't right. We've done everything we can to build a company based off of these values. It's not just words; it's actions, as well. No one needs to know about these examples. The point is we do what is right and know that when we have integrity we are an example for others. In my opinion, that's what we need more of in this country. Too many people go into business only to benefit themselves, and decide they don't have the time or inclination to do for others, be a mentor, and to keep their word in all circumstances. Let your 'yes' be yes and your 'no' be no."

Justin elaborated on that topic further in the linked podcast, discussing the company's philanthropic efforts to help others that are not as fortunate as those who happened to be born in the United States. This includes Children's Miracle Network and other children's support foundations worldwide. They feel that giving back should be an important part of every business.
"Our daughter, who's going to be 4 in September, was born with a heart murmur," said Justin. She went through a lot of tests and it was discovered that she had 2 holes in her heart, one in each chamber. That was devastating at 27 years old. We didn't have health care to help with any of the costs. In spite of that, today her heart is healed!

"So when I talk about supporting organizations like the Phoenix Children's Hospital, who never turn down one child for care even if the parents are broke, I immediately go back to that doctor's office when they had the ultrasound machine on her heart showing us a live picture of the holes. I thank God everyday for healing her. Not every parents are as lucky as we were. But we've been so blessed with our business and the least we can do is give back financially to help relieve that burden for so many deserving children.
"That's what makes me know we're making a difference, and not just creating a business for ourselves and jobs for our employees," said Justin. "We have another mission, as well: helping people who don't have much hope in life, those who have been told they'll never amount to anything. We know that, in many instances, a relatively small contribution can make all the difference in a person's life."
Justin and Elissa Paluszcyk may be reached via their company's website, www.SweptAwayAZ.com.
Interested in knowing more about how to give to either of the institutions referenced above? Just click on their respective logos to visit their websites.
Podcast: Play in new window | Download